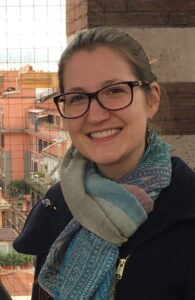 Hilary Keachie
Camp Director
Hilary grew up as a PK (preacher's kid!) and has been involved in the church in one way or another ever since. She completed a Masters of Theological Studies in May 2018, including a full time parish internship at St. Paul's Within-the-Walls Episcopal Church in Rome and a thesis on Muslim-Christian dialogue in the 9th Century. She also has a B.Ed from OISE, U of T, and a B.A. from McGill in World Religions, French and Political Science.
Hilary has worked and volunteered with children and teens for almost 14 years including mobilizing young people to take action on social justice issues such as malaria eradication, organizing international and interfaith youth camps, and teaching French and Phys. Ed at Holy Trinity And The York School.
Hilary has led children and youth ministry for most of her adult life including 8 years at Christ Church Deer Park and 3 years at Church of the Redeemer. She feels privileged to have had the opportunity to learn and grow in faith alongside curious and thought-provoking children and teens. One of her favourite parts of these roles was definitely Vacation Bible Camp! Hilary has led seven successful VBCs and is looking forward to a fun and exciting week with the kids and youth of Transfig!
Send Hilary Keachie a message: