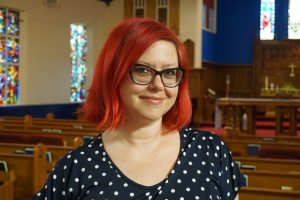 Deb Whalen-Blaize
Parish Missioner
Born and raised in Toronto, Deb began her life in ministry by moving to Northern Ireland in 2002, volunteering with the Christian non-profit organization Youth With A Mission. She immersed herself in the culture there and, with a group of dedicated volunteers, supported local communities through church work, school presentations, and charity efforts. 
Since coming home in 2007, Deb has found herself involved with several niche communities in the Anglican Diocese of Toronto. She has been directing music at the Wine Before Breakfast community at Wycliffe College at the University of Toronto for almost 10 years, and for the last 4 years she has taken on preparing liturgy at Christ Church Deer Park's Church on Tap community. In each of these communities she has found ways to express her faith in unique ways, connected deeply with community members, and encouraged them to use their own gifts as an expression of faith and in service to their communities. She enjoys doing the same at the Church of the Transfiguration.
Deb lives in downtown Toronto with her husband, Gary, where they are raising an annoyingly affectionate cat named Giuseppe.
Send Deb Whalen-Blaize a message: