In Christ,
in this place,
with these people,
you have found a home.
A Christian Community
The Church of the Transfiguration is a growing community of Jesus' followers seeking to bring new people into Christian life. Located in the heart of Davisville Village in uptown Toronto, members of our community gather for worship at Transfiguration on Sundays and Thursdays, but live out our Christian faith across the entire GTA throughout the week. We seek to follow Jesus, welcome the stranger, seek peace in our city, celebrate diversity, and live out the Kingdom of God. Transfiguration is a church rooted in the Anglican tradition and is one of over two hundred churches in the Anglican Diocese of Toronto.
WORSHIP SERVICES UPDATE:
We are currently meeting
outdoors

for Sunday worship at 10:30am. We will meet on the hill (weather-permitting) for as long as we can into the fall. Safety precautions will be taken:
as we have a limited capacity due to distancing requirements, we are using a pre-registration system (while leaving a percentage of seats for drop-in visitors); if you know you will be attending, please fill out the pre-registration form here:

please do not attend if you are unwell, have been exposed to someone with COVID-19, or have travelled outside Canada in the past 14 days.
we will have a sign-in sheet (for contact tracing, should it be needed) and hand sanitizer available. We will also have spare masks for those who have forgotten theirs.
washrooms on the main floor will be open.
we will not be serving snacks or social beverages. You are welcome to bring your own water bottle / coffee thermos, but please do not fill your water container from any faucets on church premises.
communion will be offered in bread form only (if you are not comfortable attending church services in person but would like to have communion brought to your home (outdoors) please contact the church office and Dan will make a safely distanced visit to you.)
communal singing is not permitted at the moment; instead we will have reflective pieces of music.
as we are not permitted to offer children's ministry during this time, we ask that children remain with their parents for the service. We are sorry for the inconvenience this presents for parents and families.
services will continue to be recorded and posted online (this website and Facebook) for those who are unable or uncomfortable with attending in person.
At the current time, we will only be offering one service on Sundays (at 10:30am). 
We are also gathering for socially distanced evening prayer out on the hill on Thursdays at 7pm. All are welcome. 
For those who would like to

support us financially

during this time:
you are welcome to donate via the GIVE button in the bottom corner of this page (which links to Canada Helps);
alternatively, you may send an e-transfer to   We thank everyone for their support!
A few additional notes:
If you would like to be on our emailing list to receive important updates, please email Rev. Dan at
We realize this is a difficult time, so please reach out to Rev. Dan if you would like spiritual care or have any pastoral needs (). Our church office will also be closed to in-person meetings during this time; however, you may leave a message at 416-489-7798 or email the administrator at . We encourage everyone to practice frequent handwashing, social distancing, and also to look out for one another, particularly the vulnerable and elderly. God's care and blessings be with you.
Worshiping Together – Online
As a Christian community, we profess a belief in the good news of Jesus' life, death, and resurrection. We believe that relationship with Jesus and living as his disciples has the power to transform the life of our community and the life of the world.
We believe that our story (both as individuals and as a community) intersects with God's story found in the Holy Scriptures of the Old and New Testaments. We read and study the Scriptures so that we can better understand who we are as God's people.
A Warm Welcome
Whether you're planning your first visit to Transfiguration or your one-hundred-and-first: welcome! At Transfiguration we welcome people of all backgrounds, nationalities, personal histories, sexual orientations, and gender identities. We are a community that worships and prays together, eats together, cries, rejoices, and grows together.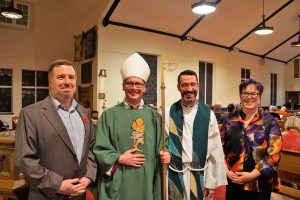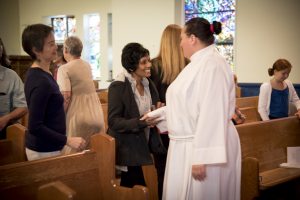 We believe that part of being a welcoming Christian community is welcoming people where they are, not where we are.
You do not have to share all (or any) of the same beliefs as the practicing Christians within our community to be welcome here, for while we are on this journey with each other, we respect that we can be in different places along the way. All are welcome and invited at Transfiguration.
You can belong before you believe.
We are always welcoming new people on Sundays when we gather for worship at 10:30am and 4pm.
Alternatively, please feel free to contact our Incumbent, Daniel Cranley, who would be happy to make an appointment for coffee and conversation and a friendly introduction.