Music plays a vital role in worship at the Church of the Transfiguration. From our guest instrumentalists preparing us for worship before the service, to our talented singers leading us through hymns and Psalms, along with our music team on Sunday evenings, the music at the Church of the Transfiguration is not likely what you would expect to experience when walking through Anglican doors.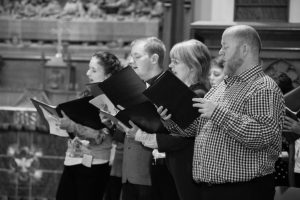 Sunday morning: Our choir is built on the foundation that all are welcome, regardless of previous experience or professional ability. We have some incredible house talent, both in the choir loft as well as in the pews, and everyone is welcome to join the Transfiguration Singers at 9:30am Sunday mornings for a quick rehearsal before the service.
Sunday evening: The Water's Edge music team is comprised of a small but talented group of musicians. With a more relaxed feel on Sunday evenings, we use a variety of contemporary selections, and put a modern spin on our traditional music.
If you are interested in joining us but have questions or reservations, don't hesitate to contact Kris Hamilton: ac.n1544964897oitar1544964897ugifs1544964897narte1544964897htfoh1544964897cruhc1544964897@notl1544964897imahk1544964897